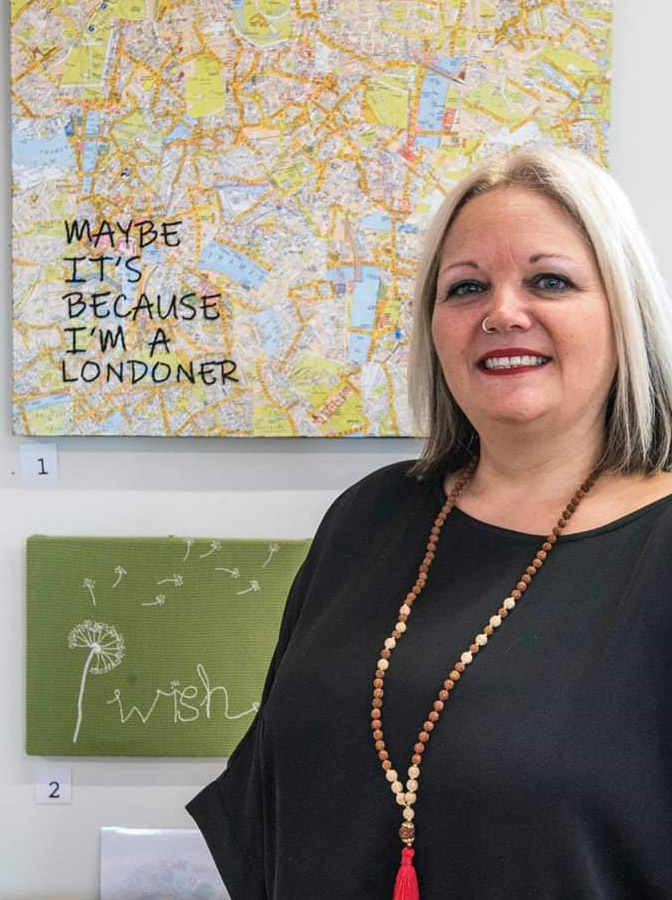 Sally-Ann Duffy is a visual artist. The art she creates incorporates textiles, recycled and found materials in a variety of ways and themes.
Sally-Ann had her first Solo Exhibition in 2018 'My Seven Year Stitch' highlighting seven years of creative work that helped her get through an extraordinary time in her life. She has also exhibited in London's 'Knit and Stitch Show'. 2018 '100 Sawdust Hearts' 2018 and 'Timepieces 2019' at Untangled Threads Gallery, Scarborough, England and WG 'Weeflab and the Brainshow' 2018 Monika Auch, Kunst Gallery, Amsterdam.
She recently held her first artist residency in 2019 at the Rediscovery Centre, Ballymun where she exhibited and extended her repertoire and interest in recycled and waste materials to create art.
She has created commissions for both private and public spaces including the Oceanarium, Bournemouth, England. Sally-Ann is an experienced project manager in both creative and commercial projects, she developed and facilitated a community arts project 'Stay United'; a Community Quilt, (Meath Intercultural Network),  worked on the Creative Spark,  Dundalk Community Tapestry Project and provided creative workshops to over 200 students at Virginia College Creative arts week.
Sally-Ann is also a member of the Next Chapter. The Next Chapter aims to improve the representation of women in public and political life and contribute to a more gender-sensitive society in Northern Ireland and the border regions of the Republic of Ireland.
Sally-Ann is a founder member of Bailieborough Creative Hub. A place for creatives to come together and share their work in a safe environment.
Creativity is a vital part of Sally-Ann's self-development, resilience, well-being and positive mental health.
We'd love to hear from you!