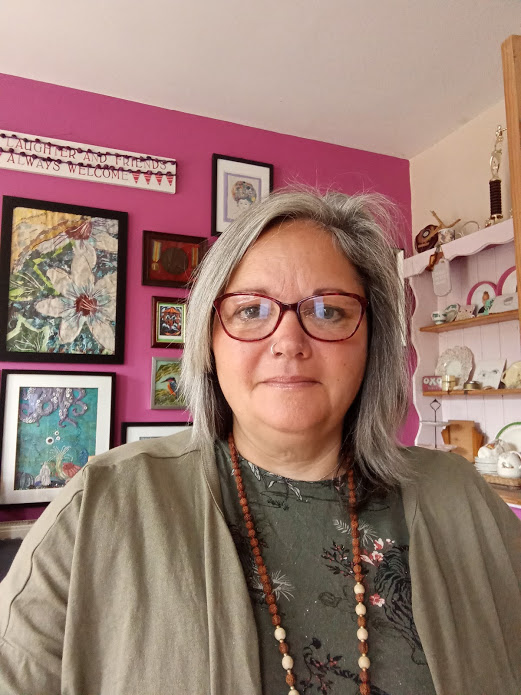 Sally-Ann Duffy is a visual artist originally from London now based in Bailieborough. After working for 35 years, she is finally pursuing her passion for mixed media and textile art. Her work has been exhibited in Ireland, UK and the Netherlands. An eclectic selection of vibrant carefully stitched textiles from her vast collection is in her portfolio. Inspiration comes from many sources including folklore and nature, her work often features handmade, painted and hand dyed fabrics. Sally-Ann is an experienced project manager has divised community art projects and teaches textile arts to adults and children where she advocates that sewing is a creative way to wellness.
 Solo Exhibitions
'My Seven Year Stitch' 2018 Bailieborough Library, highlighting seven years of creativity through an extraordinary time.
'Recycled Art' 2019 residency at the Rediscovery Centre, Ballymun where she extended her repertoire and interest in recycled and waste materials to create art.
Projects:'Stay United Community Quilt, 2017 Meath Intercultural Network, Cultur, Navan
"Welcome to Poetry Town" 2019 event featured on RTE's Six One News
'A Haunting', a theatrical Halloween event and window displays, Bailieborough Creative Hub
Collaborations: Bailieborough Craft Club Quilt 2010, The Dundalk Community Tapestry 2018,100 Sawdust Hearts exhibition (London), 'Stitch Your Brain' 2018 Gallerie WG Kunst, (Amsterdam), 100 Timepieces 2019(Scarborough)
Group Exhibitions: 'Show and Tell' 2019 Bailieborough Creative Hub, Bailieborough Library, 'Cavan Arts Week' 2019 Cavan County Library, 'Past-times' 2019 Heritage Week Bailieborough Creative Hub, Bailieborough Library.
In the Media
Irish Times Magazine: Saturday 28th July 2018 'Crafty Stitching' Kevin Sweeney
Meath Chronicle: Saturday 28th July 2018
Anglo Celt: Celt Living: Wednesday 9th August 2018 'Satisfying the Urge to Stitch' Damien McCarney.
Inspirations Magazine 'All Stitched Up' Issue 262, Nov 2020
Instagram @sallyannduffy
We'd love to hear from you!