'Where Past and Present Converge' will harness the cultural, business, history and community spirit in Bailieborough, Co Cavan.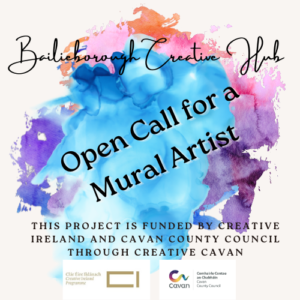 Bailieborough Creative Hub are delighted to announce that we have secured funding through the Creative Cavan Grant Scheme 2023 towards the design and painting of a mural on a premises in Bailieborough. We are now inviting quotations from mural artists to work with our group to design and complete the mural.
This project aims to achieve public art that resonates with the natural environment and local heritage, encouraging linking of history, community and the physical space including elements that are unique to Bailieborough.
We are now inviting mural artists to apply and the full brief can be seen by following the  LINK TO BRIEF
If you wish to be considered for this project, can you please forward your expression of interest by email to bailieboroughcreativehub@gmail.com
on or before 5pm Monday 31st July
This project is funded by Creative Ireland and Cavan County Council through Creative Cavan